Sign In
Switch to our HTTPS site before Signing In...


Up a level » Troubleshooting » Image Shrinking
Back
How do I shrink my images so I can upload them?
Preparing your images for upload to tvChix

Images uploaded to tvChix must be less than 700k.
Images should be resized so they are not taller or wider, than 500 pixels.

How to use ShrinkPictures.com

The nice people at ShrinkPictures.com have made resizing your images easier than ever.

Simply click the following link to ShinkPictures.com and follow the 3 steps below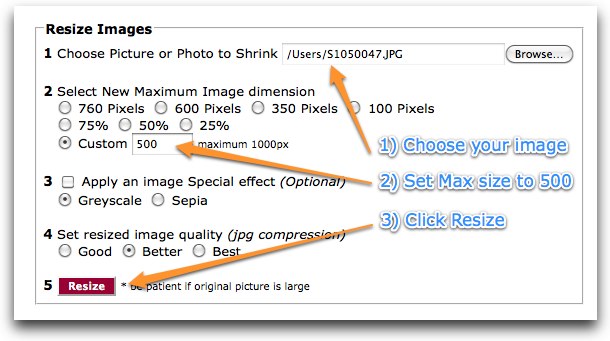 After clicking Resize, you will be presented with a Download link, to save the image to your desktop. This image can then be uploaded to tvChix

Still having problems?

If you are still having difficulty uploading images, please post your problem, in the tvChix Technical Support Forum

Be sure to include FULL details about your browser, operating system, and the exact error message you are getting, and myself or another user will try to help.
---
Bumps!
Happy Birthday to tsrach (Tuesday)



Lancashire
England